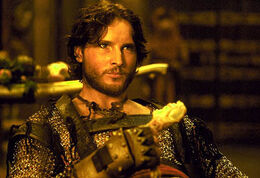 Prince Takmet
is the secondary antagonist in the 2001 film
The Scorpion King
.
Biography
Edit
Son of King Pheron, Prince Takmet betrays the last free peoples and reveals Memnon their intent to send 3 Akkadians including Mathayus (later known as the Scorpion King) to killed his psychic sorceress Cassandra.
To do it, he brings him as evidence the severed head of his father. Due to his betrayal, the mission of the three Akkadians fails while Takmet is immediately added in Memnon's thanks as he now serves his new emperor.
In the end, he is killed by another free tribal leader Balthazar as punishment for betraying his late father Pheron.
Ad blocker interference detected!
Wikia is a free-to-use site that makes money from advertising. We have a modified experience for viewers using ad blockers

Wikia is not accessible if you've made further modifications. Remove the custom ad blocker rule(s) and the page will load as expected.