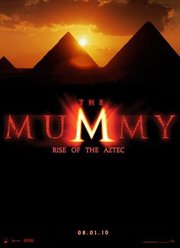 The Mummy: Quest for the Talismans is a action-adventure fantasy novel about a treasure explorering family known as the O'Connells, searching for twelve ancient stone tablet-like puzzles to find an ancient artifact before the evil mummy high-priest Imhotep, resurrected from the dead, finds and use the cursed powerful artifact to conquer the world.
Action, Adventure, Fantasy, Horror, Sci-Fi and Thriller
Greg Edmonson
The Mummy 2: Rise of the Memphis
The Mummy 3: Curse of the Aztec
The Mummy 4: The Revenge of Pharaohs
Cast and characters
Edit
Brendan Fraser as Rick O'Connell
Rachel Weisz as Evelyn O'Connell
Aramis Knight as Alex O'Connell
John Hannah as Jonathan Carnahan
Oded Fehr as Ardeth Bay
Ad blocker interference detected!
Wikia is a free-to-use site that makes money from advertising. We have a modified experience for viewers using ad blockers

Wikia is not accessible if you've made further modifications. Remove the custom ad blocker rule(s) and the page will load as expected.